Border Patrol Policy = Catch, Question, Release, Do NOT Follow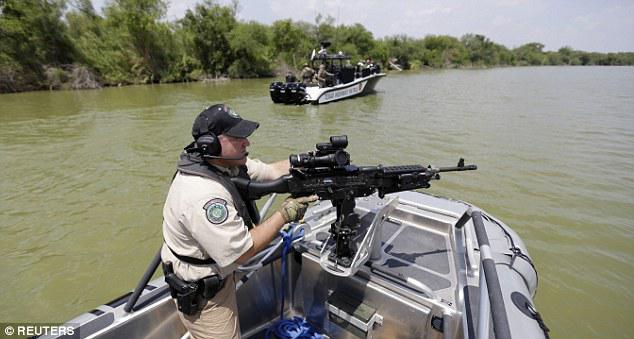 "They are still wet from the river and miles from any civilization and on their word alone we release them unless we physically saw them cross the river."

- Agent Brandon Judd, President of the National Border Patrol Council

New testimony from Brandon Judd continues to open our eyes to the open border policies the Obama Administration has established. According to Judd, if an illegal immigrant says they have been in the U.S. since January 1, 2014 they must be released.

Agents were told they can only detain illegals if they physically saw them crossing the Rio Grande. Judd previously testified that Border Patrol Agents are being told to RELEASE illegal immigrants and are NOT to give them notices to appear in deportation hearings.

We knew our illegal immigration crisis was bad but this is unbelievable. Right now, we essentially have NO immigration laws. Our Congress has to act quickly to prevent another massive wave of illegals into our Country.

We must fax members of Congress demanding they do everything in their power to stop this new open-door policy. Pass a Bill that will secure the border, pass comprehensive immigration reform, heck, just make them enforce the laws we already have in place!!



SELECT HERE To Fax Members Of Congress: Demand They Do Everything In Their Power To Ensure Our Current Immigration Laws Are Enforced!


New testimony from Judd explains the helplessness of U.S. Border Patrol Agents:


"We have apprehended illegal aliens just north of the border who are still soaking wet from crossing the river.

If they claim, as increasingly they are doing, that they have been here since January 1, 2014, we will process and then release them,

This policy de facto creates an open border with Mexico for any illegal alien who wants to claim that they were here before 2014."

If you want to make it into the United States illegally, all you have to do is cross our border, turn yourself in to Border Patrol, tell them you have been here since January of 2014, and you will be free to go.



SELECT HERE To Fax Members Of Congress: Demand They Do Everything In Their Power To Ensure Our Current Immigration Laws Are Enforced!


Judd said the Border Patrol Agents joke about NTA's as "notices to disappear" even though they are notices to appear in court. Not only are the Agents told to release the illegals, they are not allowed to track their whereabouts once they have been released:


"Not only do we release these individuals that by law are subject to removal proceedings, we do it without any means of tracking their whereabouts.

Agents believe this exploitable policy was set in place because DHS was embarrassed at the sheer number of those who choose not to follow the law by showing up for their court appearances.

In essence, we pull these persons out of the shadows and into the light just to release them right back to those same shadows from whence they came,"

Judd concluded with some powerful thoughts:


"Immigration laws today appear to be mere suggestions. There are little or no consequences for breaking the laws and that fact is well known in other countries.

If government agencies like DHS or CBP are allowed to bypass Congress by legislating through policy, we might as well abolish our immigration laws altogether,"



SELECT HERE To Fax Members Of Congress: Demand They Do Everything In Their Power To Ensure Our Current Immigration Laws Are Enforced!


This is a shocking discovery thanks to a testimony from someone who has seen it first-hand. Our United States cannot afford to operate with an open door policy at our southern border. We are venturing down a very dangerous path; we must demand Congress deals with this issue head on!
Defend America,



Alan M. Gottlieb
Chairman, AmeriPAC

If you prefer to send a check, please mail to:
American Political Action Committee (AmeriPAC)
PO Box 1682
Dept Code 347
Bellevue, WA 98009-1682